Explore the future of robots with Pepper, CCPL's four-foot tall social humanoid robot. Pepper is a teaching tool to introduce the community to practical applications for robots and artificial intelligence as well as offer an engaging way to teach coding to youth and adults. As robots are being introduced in a variety of public spaces, Pepper supports a broader understanding of positive interactions with robots, their strengths and current limitations, and how the underlying technology works.
Pepper advances CCPL's goal to connect the community to the potential of current and emerging technologies. Pepper was funded through a Library Services and Technology Act Grant from the Maryland State Library and Institute of Museum and Library Services.
Check Currents or the Calendar of Events site for upcoming Pepper events.
Meet Pepper
Pepper is visiting all CCPL branches for Meet Pepper demonstrations to interact with community members of all ages in a variety of ways, including reading stories, playing simple games, and having basic conversations. Let us know how you would like to see Pepper used in the library!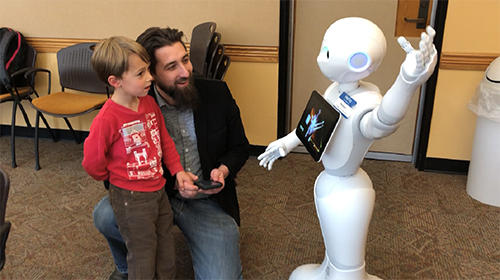 Code with Pepper
Pepper is also teaching coding to youth and adults using Choregraphe, a drag and drop programming language, to create applications to run on Pepper. In Robo Dojo: Code with Pepper programs, learn how to create speech-based interactions, add behaviors, and add tablet images to create an application for Pepper. We want your help in creating practical uses for Pepper in the library!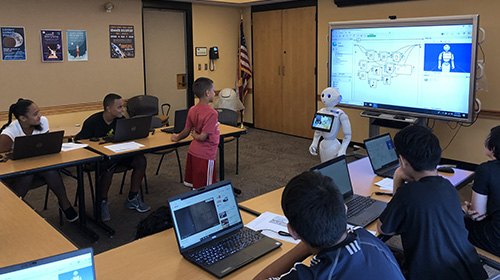 Pepper's Future
Developed by SoftBank Robotics, Pepper uses built-in directional microphones, 3D and HD cameras and sensors, and twenty battery-operated motors to allow for fun and meaningful interactions with people. Pepper will be a permanent resident at Exploration Commons at 50 East to welcome everyone, share information, and enhance the customer experience.