The MD Digital eLibrary site provides access to thousands of eBooks, digital audiobooks, and magazines in several different formats.
OverDrive getting started guides
Meet Libby, our eBook and digital audio app!

The app has some great features that should make borrowing, using, and returning digital books and magazines even easier. Here is some info you may want to know about Libby.
Available for both iOS (Apple) and Android (Google Play).
Intuitive navigation
Simplified borrowing and downloading process
Store multiple library cards

Whether you have cards from multiple counties or each family member has their own card, you can store them all on the same app
All of the cards have to be from Maryland's Digital Library (so most public libraries in Maryland will work)

One unified bookshelf that automatically displays all of your loans and holds from all of your libraries
It is important to note that while the Libby app was created by Overdrive, it is separate from the Overdrive app. The original Overdrive app is still available, so you can choose whichever one you prefer. You do not need both, but if you already have the Overdrive app, maybe give Libby a try and see if it is a better fit.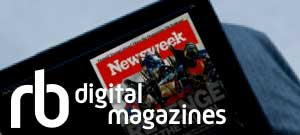 More than a mobile reading application, RBdigital Magazines (previously called Zinio) provides access to the digital editions of the magazines you love, delivering the exact same material you get in print' plus exclusive features like video, audio and live links, on your iPad, iPhone, desktop and laptop.
Get started with the new RBdigital App | RBdigital Magazine FAQs


Borrow video, music and audiobooks for free with your library card! hoopla offers thousands of movies, television shows, music albums and audiobooks for adults and children from major Hollywood studios, bestselling authors and artists. Start streaming immediately or temporarily download a title for viewing later. Up to 6 titles per month with your Carroll County Public Library card!
Hoopla recently updated their user authentication protocols, which may require customers to update or reenter their library PIN in their hoopla settings. If you're receiving the error message that "Something is wrong with your library card or PIN" when borrowing content, please follow the Updating Your PIN instructions.